Nearby Atractions
Santa Cruz de la Sierra, commonly known as Santa Cruz, is the capital of the Santa Cruz department in eastern Bolivia. Situated along the Pirai River, the city of Santa Cruz and its metropolitan area are home to over 70% of the population of the department and it is one of the fastest growing cities in the world.

Santa Cruz offers an interesting circuit of cultural and art spaces, from natural history, to religious art up to the newest contemporary art. There is also a young art market which is growing fast. Some of the Museums, Cultural Centers and Galleries that it is worth to see are: Noel Kempff Mercado Natural History Museum, Teniente General German Busch National History Museum, National and Regional Museum and Archive, Cathedral Museum of Sacred Art, Museum of Art and Archaeology, Manzana Uno (art center), Cultural Center Santa Cruz and Cultural Center Simon I. Patiño.

Besides the circuit of cultural and art spaces, there are also great escapes for a day trip out of the city. Some of the places that it is worth to visit are:

Las lomas de arena del Palmar a wayward patch of sand dunes somehow isolated among the tropical forests of Santa Cruz. No one knows how they got there, but the sand is the same as is found in portions of Africa.

Cotoca which is a small city 25 km. From Santa Cruz, where you can learn to create potteryfrom some of the best artisans around.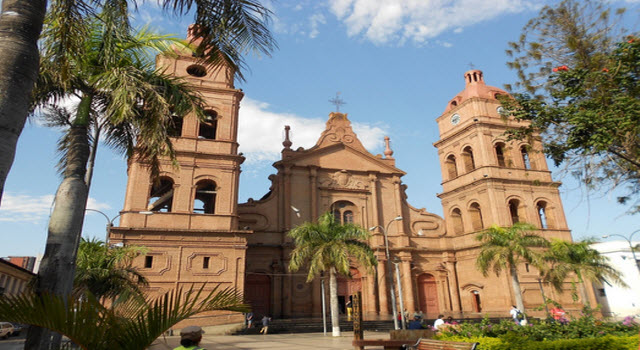 Cathedral of Santa Cruz
| Fast Facts about Santa Cruz de la Sierra | |
| --- | --- |
| Population | 1,651,436 (2010 est) |
| City Area | 567 sq km |
| Time zone | UTC−4 |
---
Exciting Events & Festivals
There is a never-ending, amazing variety of festivals, music concerts and expositions held every year in Santa Cruz de la Sierra. Follows a short list of the most representatives events and festival to be held during the year of 2015.
| Event | Season |
| --- | --- |
| Carnaval in Santa Cruz | February, 15th to 17th. |
| Barroco Music Festival | Late April |
| International Book Fair | May |
| Feria Internacional de Santa Cruz | September, 19th to 29th. |
Must Visit City Attractions
It's worth spending a few days in Santa Cruz, wandering the streets, eating at the many national & international restaurants and checking out the rich nighlife in the city. Follows some interesting places that it´s worth to visit during your stay.
---
Upcoming event
Feria Internacional de Santa Cruz, September 19th to 29th
Considered the most important business center in Bolivia, FEXPOCRUZ organize Fairs for many industries the whole year around, some of them are: FIACRUZ (Automobile Fair), FICAD (Architecture, Building and Construction), EXPOFOREST (Timber and wood processing technology), AGROPRECRUZ (Agriculture technology), EXPOMUJER (Integral womens fair), FIJ (jewerly), EXPOMYPE (start-ups and small business) and the most important of all THE FERIA INTERNACIONAL DE SANTA CRUZ, which is held every year form 19th until 29th of September.